About Triple D's Mobile Detailing, LLC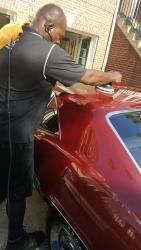 Here at Triple D's Mobile Detailing it is a must that we go above and beyond to meet the satisfaction of all of our clients. Whether you are just requiring a" Supreme" wash and vacuum or if you are in need of "Ultimate" or "Triple D's Detail", we treat all of our clients and their vehicles with the same courtesy and TLC!  No matter the size, condition or cost of the vehicle we approach them all with the same attitude and objective.  Our main goal and objective here at Triple D's Mobile Detailing is to put a shine on your vehicle and  a smile on your face.  For 12 years we have given clients throughout the Metropolitan area affordable and quality curbside Automotive Detailing. Though the internet is the way of the world these days, we generate a great deal of our business through referrals and word of mouth so we have a Customer Service Guarantee!  We will not leave the scene of your vehicle until You are completely satisfied!  We are licensed and insured and we look forward to hearing from you today!
My name is David Dorsey and I go by the nick name "Double D". When clients see my name on my shirt, the first thing they tend to ask is "if your Double D then what is the Triple D's about?" Good question. Well I am David Dorsey Jr. and my oldest of two sons is David Dorsey III. His nick name is "Triple D" so there you have it. He is now 12 years old and that's how long we have been at it here at Triple D's Mobile Detailing. The company was established when he was born and we have been satisfying clients and their vehicles ever since. As the owner, I have my hands on every aspect of the business. From setting appointments to actually detailing vehicles. I find it necessary to commit myself on a daily basis to make sure that all of our clients are being accommodated properly! This company was built on customer service and satisfaction. Professionalism and courtesy is a must here at Triple D's!
Literally best car detail I've ever had. Took my 2 dogs up to New York in my Cadillac ATS for the holidays and even with the dog mat it was coated in hair. He literally got every last bit out and got my car looking better than it did the day I drove it off the lot. HIGHLY recommend.

- taylor laPerle. 11/31/2019

Was very professional and convenient and most importantly reliable and offered a great service I'm definitely recommending him to family and friends thank you beloved David your the best!!!!!!!

- Jimarr King. 10/12/2019

This was my first time using Triple D's and he'll definitely have a returning customer! Very convenient service since he comes to you. Literally got my car detailed while I was at work. The before and after pictures are amazing! It will have you thinking I cant believe that's my car! Nice work! Keep it up!

I have been using Triple D's for the last several years and they have never disappointed. Professional, precise, and perfected. My cars always look and smell like they just drove out of a showroom floor. Thumbs up, way up!

Having three kids that treat my truck like it's a playhouse. Triple D's saved my truck, thanks again.

- Michelle Plummer. 9/4/2019

Great service. Super easy, reliable, and thorough. My go to guy.

Totally recommend David with Triple D's Mobile Detailing!!! He came to my work today and turned my dusty dull vette into a shiny clean car again! He arrived on time, was professional and did a great job! Thanks David for making it so I am not embarrassed to drive around with the top down today!

David was timely, convenient, professional and wonderful to work with. Not to mention, very reasonable and my car looks amazing! I would absolutely recommend Triple D's

Probably the best auto detailing service in the DMV. Extreme Keen eye for detail and definitely worth every penny. He did my BMW and it looked better than when I bought it!

- Brian Vallenas. 8/20/2019

Dave did an amazing job in my car. I had dog hair and stains in the seats and it was like it never was there to begin with after he was done. Amazing job at an amazing price. Will use again in the future!

- Alyssa Ferguson. 8/15/2019

Dave did an amazing job on my Corvette. The cover had been damaged in a storm so the car was filthy. Dave was extremely thorough in his work and took his time to make sure every inch of the car was cleaned and polished to perfection. I had heard of Triple D's reputation for quality but this was the first time I had used them. It definately will not be the last.

David called to confirm and showed up on time. Gave my car the works! He got my car, that I've had for 6 months now, cleaner than i've ever seen it. From the gear shifter, to the floor mats, to the shining paint, Triple D's got my car immaculate. Strongly recommend these guys

- kimothy wilson. 8/12/2019

Great service highly recommend. Love how convenient it is to get my car detailed while I'm at work. If you want your car looking like it just left the show room floor call Triple D and he will get your vehicle looking great.

They always do a great job!

- Chris Pellegrini. 8/10/2019

Does an amazing job with my Jeep. Highly recommended.

- Candace Chapman. 8/9/2019

We chose an inside-only detailing and they did a great job of making the inside of our car look brand new again. They were given no small task and we are very happy with the results. I checked in on them and they spent a lot of time working hard to get everything done right.

- Justin Yackoski. 6/31/2019

Tripple D's detailing is the best car detailing company to use in Maryland!!! Unfortunately he was busy, but I needed my car detailed for inspection so I went with another company. This company left wax all in the cracks my car, I wasnt even impressed with the interior detail!!! luckily Tripple Ds detailing came and took care of everything for me and re detailed my car for half the price!!!! I am Military so it is always hard to find a great detail company in other States. Once I found Dave I never used another company until last week, which I regret!!!!!!! I paid 200 to be very disappointed. Thank you Dave for taking your time to come out and re detail my car

- William Padilla. 4/7/2019

I cannot speak highly enough about Dave and his service. Timely, very well priced, and an outstanding job. If you're looking for a detailer, look no further.... - Matt Shannon

Excellent service! Highly recommended. I will absolutely be using again. Car was spotless, and looked amazing.

Phenomenal job on my boyfriends Jeep! We have a dog that we frequently travel with in my boyfriends car, so the dog hair was out of control. Triple D made his car look brand new. Seriously so impressed. And he traveled to us in Alexandria which was even more awesome! Highly recommend. Can't wait to do my car next!

- Amanda Losardo. 2/11/2019

Called to make an appointment for The next day and he fit me in same day in the evening and showed up 20 minutes before the scheduled time. Got the Alfa looking like it rolled off the show room floor, real professional can't wait to have him do the wife's car.

- Antwan Greene. 9/18/2018

ALL MOM'S WITH LITTLES! David's detailing service is a MUST if you're a family on the go like us. We have a packed schedule and so we end up eating on the go, in the car, more often than we like. We also take our minivan EVERYWHERE on road trips and camping trips etc. Of course this also means countless spills and messes and "accidents" especially when all 3 kids are under 5! You know it's bad when your kids start to comment that their car is stinky! Yes, it was beyond disgusting. After the service I expected the car the be clean, but when I went to take a look I was shocked. I just got a new minivan! Utterly amazed~ wish I had before and after pics to show.

Best detailing company ever! Husband surprised me with a birthday car detailing. Car looks AMAZING. You can see your reflection in it.

Very thorough job execution. Awesome at the home service.

- Chiedu Felix Chukwuisiocha. 9/5/2018

Dave arrived right on time, worked hard and diligently to get some pretty nasty mold out of the interior of my car. After he was done, the upholstery, dash and carpet looked amazing. Highly recommend Triple D!

I've always detailed my car, especially because I'm wary of trusting it to other people. I'd been slacking after moving, though, and it really needed claying. Triple D visits my work and coworkers had good experiences, so I decided to give them a shot. They did great work, plus were fast and courteous - he even put a drink from my car into his cooler to keep it frosty. The paint looked great, and he addressed a couple small requests (removing track tape residue and being gentle around some damaged paint). My only request for the future would be to wipe off the sooty muffler tips on this oil burner. I'll definitely use Triple D's services again!

Triple D's came through and made my older car look brand new. Very thourough and detail oriented. I'd highly recommend to anyone no matter what kind of vehicle you have. Thanks alot Triple D's!!!!!

Amazing job! They have done both of cars and they always come back looking spectacular. Highly recommend, you will not be disappointed!

- Tripp Whalen. 4/26/2018

These guys know their stuff! My car looks like it rolled off the showroom floor each time they are done with it. I have matte vinyl graphics on some parts of the car, and they are always careful to not damage it. Been using these guys service for over a year now, they have a customer for life. If you need your car cleaned, or even full on claybar, wax and detail, look no further.

- Timothy Lutter. 4/24/2018

Did a great job cleaning my motorcycle. Showed up on time. My bike looked like it jist came off the showroom floor again!!!! Will definitely have him take care of all my vehicles from now on. Highly recommended!!!

Superior service and attention to detail. You will be extremely satisfied with the finished product. Triple D's will give your vehicle the top level service it deserves. They do not cut corners and will clean every part of your interior and exterior. Could not be happier with the end result. You cannot beat the convenience of having them come to your house and take care of everything. I will not go anywhere else for my car cleaning or detailing needs. First class all the way around.

My car looks amazing! All of the spots on the upholestry came out clean and the car looks new again. Dave and his coworker were very professional and did a great job in a timely manner. I'll definitely call again.

- candice brown. 4/2/2018

Went with these guys a few times before, and they've done a great job every time. Highly recommended

- Robbie Ashton. 3/19/2018

Amazing work is an understatement! My vehicle never looked better! Highly recommended!!!

Great service, customer friendly and prompt. I would recommend Triple D's detailing to anyone I know. When our vehicles are serviced by Triple D's everyone who sees the vehicles are super impressed. Triple D's gives a used vehicle a new look and a new vehicle feel and smell. Thanks Triple D's for keeping us riding clean.

- Rodney Williams. 3/17/2018

Professional no hassle and on time . I Called Dave last minute with a really tight schedule and a filthy 18wheeler he was more than accommodating and extremely meticulous while working his magic needles to say i am now a loyal customer he cleans me up every two weeks. By far best mobile detail man around call Triple D's for your commercial vehicle

Triple D's Mobile Detailing did a great great job on my ride! Very impressed with the service I was provided. From beginning to end my experience was top notch so I will continue to ride clean with Triple D's Mobile Detailing!!!! Thanks again....

This is an excellent detailing service. I've known the owner 20 years. Watched his business flourish and earn top ratings. Definitely second to none. Keep up the excellence.

These guys brought my car back to life good looking out Tripple D's

My man Triple D's always put that work in I'm always satisfied highly recommended!!!!

- Camonte' Lee. 3/13/2018

These guys are unbelievable. My cars are immaculate. I'm almost afraid to drive them! Highly recommended!

- Josh Lorenzo. 2/29/2018

I was in desperate need of a car detailing service when a friend recommended Dave. I went on his website to check it out and was really happy I did. Not only did it have a good layout, before and after pictures of his work and more great reviews, but it also listed ever service he had t offer as well as the prices. Do I decided to email him and see how soon he could get me in. He responded to my email within 24 hours and was able to set up an appointment within a couple of days. Another good thing out of the many about Dave is he comes to you. He came to my work, I went out, gave him my keys and he called me when he was done. When I went out to get my keys my car looked just like it did they day I drove it home from the dealership. I had to spots on my seat that he was able to get out. I was so happy! It even had the new car smell. I highly recommend Dave and will definitely use him again.

- Shannon Boyce. 2/25/2018

Very efficient and clean work. Even restored a part of clothes from the ceiling

- Quinten Cadeau. 2/13/2018

I have been using Tripple D's for a while now and have always been COMPLETELY SATISFIED with the results. Dave has extensive knowledge of the detail industry and knows how to make your vehicle look it's best. His paint correction abilities are phenomenal and I am one picky person to say the least. Your in good hands with these guys.

- jeramie chronopoulos. 2/8/2018

I needed a quick wash and wax for a night out on the town. Triple D's was in the immediate area I as in at the time. They delivered as promised on a top notch level of service. I can could probably style my hair by looking only at the mirror paint finish. Needless to say I'm a fan!!!!!!!!!!!!!!!!

- Daniel Croftman. 2/1/2018

I have used Triple D for years now and his service on my car has been above reproach. He is completely reliable, works hard, and does an outstanding job both inside and outside of my car. He is personable and really cares about the work he does and the customer opinion. Even on hot days, when perspiration flows from his brow, he still does a super job. I won't trust my car in any other hands.

- George Mathews. 1/27/2018

Absolutely wonder service. I received the full detail package inside and out. I recommend Triple D's Mobile Detailing to all my friends and the general public.

- Quentin Palmer. 1/23/2018

Easy scheduling!!! Triple D's was able to accommodate me at work and even was able to get in a few co-workers after my detail! With such ease of getting my car done I was taken aback at how professionally this company is with "pull-up" type of service! If I could give more stars I would!! I just never expected this type of treatment from a mobile detailed! Great company...

- Ashley Mason. 1/23/2018

- Hamed Alaghebandian. 1/20/2018

Never have to wait long and the wash quality is 100 times better than any chain. Prices are great too and he comes to you! Highly recommend!

I've used a couple of different detailing companies in the montgomery county area and have been disappointed until I came across Triple D's Detailing. Dave and his team are very attentive to the details and that's what I've been looking for. No need to look any further, this will be my company! I'm "Riding Clean With Triple D's"!

- Shannon Dorsey. 1/17/2018

I have had my car done by triple d's 3 times now and it feels like I'm getting in a new car every time. You can tell he takes pride in what he does by the quality of his work. Highly recommended he's services

Been a proud customer of Triple D's hard Work for 5 years now. Fair, honest, hard working, and attention to detail are just a few words that come to mind about Dave and his team's services. Consistently receive extremely positive comments about how clean and great my truck looks, and it's all a result of their efforts. Thanks Dave and look forward to doing business again soon!

My go to detailing company hands down! Quality detailing at a fair price!!! I highly recommend Triple D's Detailing!!!!

- corey mcdonald. 1/10/2018

Dave provides professional quality service at very reasonable rates. His work is very consistent and I can trust him to detail my vehicles. He is also flexible and will work with your schedule. Highly recommended!

David has detailed several of our vehicles. He literally makes them look brand new! My job even uses him for our construction trucks and it's amazing how clean he gets them! He is reliable, dependable, makes everything convenient… And will definitely make you love how clean your vehicle is! I highly recommend him! I can't wait for him to do my minivan again soon!

- Melanie Travis. 1/9/2018

Hands down best mobile detailing company in Montgomery County!! Punctual and very professional. The work they do is phenomenal, a lot of attention to detail to have your vehicle looking brand new. Highly recommend them to all of my family, friends and co-workers.

- Sarah Hopkins. 1/9/2018